No,
I think a lot of you are missing the point here... Dennis did a video bashing other rigs. It is a childish mine is bigger than yours thing. he took the time to build something one sided and edited stuff to his point, (farenheit 911 anyone?)
liek was said before, we, wheelers and 4x4 enthusiats of all kind do not need more "anti" this and that, and acting like a kid will just make the argument weaker, specially since a bunch of people here know the video was one sided. I think it is sad that one can take the time to create a video with trash talk on another, whoever it is, whichever side the person is. I think it is pretty lousy that someone who thinks he\she is so hot would do something so low, maybe he has some complex of inferiority that buying a certain rig helps him feel good about himself? I can not help with that
I actually saw what Dennis put together as funny, a long as you can see things from both sides, and you know a bit more than what was posted.
We need more people coming together than wasting time on mine is better than yours. Acting like kindengarten kids often seems to be the norm, all over the web, and all over many boards. Heck even within the jeeping community there is trash talk on Rubicon owners, or making fun at teh Jp liberty. Even among the Hummer and HWMVV community there is trash talk about H2's being yuppie Hummers and H1's and HWMVV. There will always be trash talking, but I think things need to be put in perspective, laughed at, and so on. Again, there are issues with wheeling that seem more important, trail closures, bad rep on wheeling community, and sadly, not much is being done about it, not even an effort to put a video together that could actually help the community instead of breaking it more apart. We (wheelers) are fighting to keep trails open, but at the same time, like a bud mentiooned today, we wheelers are the ones that will eventually be the cause for their closures. Sad but true...
On another note, I actually will have soon Hummer parts in my Jeep :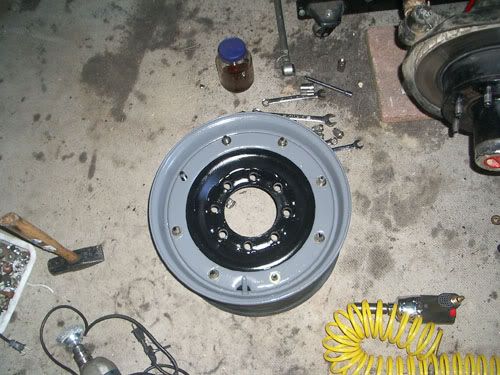 Gui